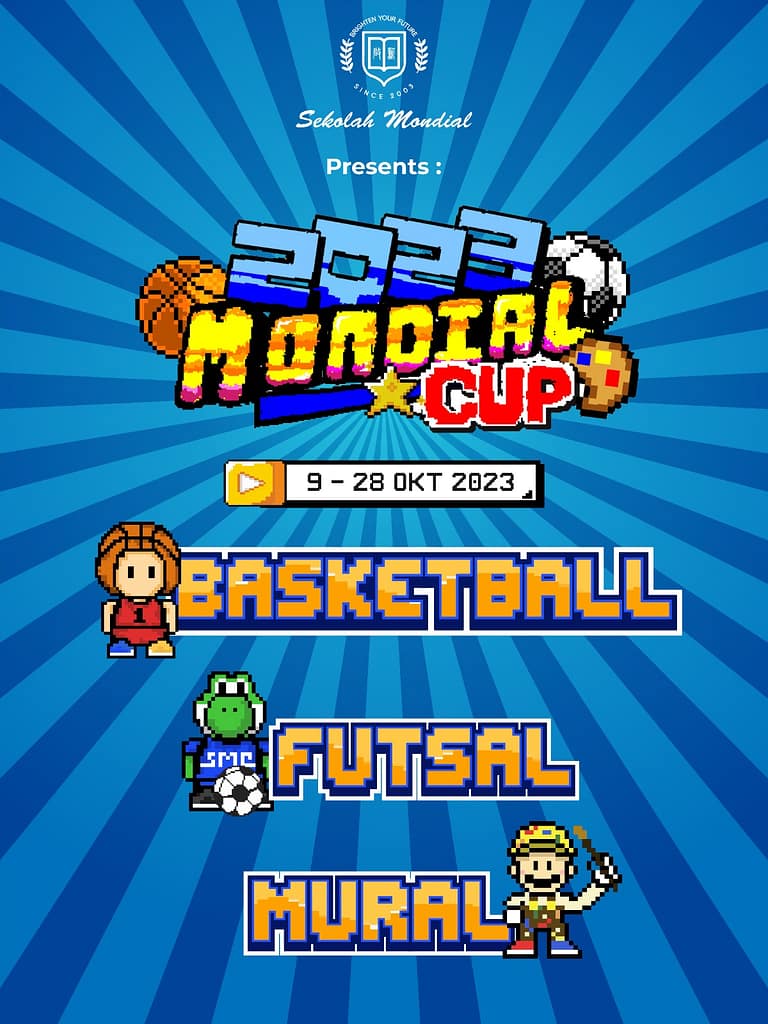 Sekolah Mondial, known for its commitment to holistic education and fostering a vibrant school community, is gearing up for one of its most anticipated events of the year – the Mondial Cup 2023. This event promises to be an exhilarating celebration of sportsmanship, creativity, and teamwork, featuring basketball and futsal tournaments along with a mural competition. As students, teachers, and families come together to participate and support, the Mondial Cup 2023 is sure to be a memorable and unifying experience.
The Mondial Cup: A Tradition of Excellence
The Mondial Cup has become a beloved tradition at Sekolah Mondial, showcasing the school's dedication to promoting physical fitness, artistic expression, and friendly competition. This year, the event is set to be bigger and better than ever before, with students eagerly preparing to demonstrate their skills and creativity on various fronts.
Basketball and Futsal Tournaments
The heart-pounding basketball and futsal tournaments are expected to be the highlights of the Mondial Cup 2023. The school's athletic talents have been honing their skills in anticipation of fierce but friendly competition. Students of all ages will have the opportunity to represent their respective houses and demonstrate their prowess on the court.
What sets the Mondial Cup apart is not just the skillful display of athleticism but also the emphasis on sportsmanship and camaraderie. It's not just about winning; it's about building character, teamwork, and resilience. These tournaments are not just about a game; they are about the values that Sekolah Mondial holds dear.
Mural Competition: Where Art Meets Expression
In addition to the athletic events, the Mondial Cup 2023 will feature a mural competition that will allow students to unleash their creativity on campus walls. This year's theme, "Unity in Diversity," reflects the school's commitment to celebrating differences and fostering an inclusive community.
Students from various grades and art backgrounds will collaborate to transform selected areas of the school into vibrant and thought-provoking works of art. This unique blend of creativity and teamwork is expected to result in captivating murals that will serve as a lasting reminder of the Mondial Cup's spirit.
Building School Spirit and Community
The Mondial Cup 2023 goes beyond being just a series of events; it is an opportunity for the entire school community to come together and show their support for one another. Students, teachers, parents, and alumni will join hands to make this event a resounding success.
For parents, it's a chance to witness their children's talents and skills firsthand, cheering them on from the sidelines. For teachers, it's an occasion to foster deeper connections with students outside the classroom and serve as mentors and role models. And for students, it's an opportunity to learn valuable life lessons about teamwork, perseverance, and the importance of giving their best effort.
As the countdown to the Mondial Cup 2023 begins, the excitement and anticipation at Sekolah Mondial are palpable. This event encapsulates the school's commitment to holistic education, where students are encouraged to excel not only academically but also athletically and artistically. It's a celebration of unity, diversity, and the values that make Sekolah Mondial a unique and nurturing educational institution.
As the Mondial Cup unfolds, it will undoubtedly leave an indelible mark on the memories of those who participate and attend. The Mondial Cup 2023 is more than just a school event; it's an embodiment of the Sekolah Mondial spirit, and it promises to be a showcase of talent, teamwork, and unity that will be cherished for years to come.